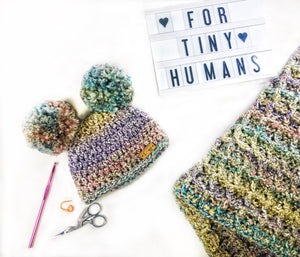 Tiny Human . . . a custom baby set to be exact. Let's work together and get you the perfect baby bundle set for the newest Tiny Human in your life! 
. Care Instructions
. Handwash only (if you must: gentle cycle, machine wash)
. Lay flat to air dry

 Find. Me.
Instagram. @stitchdbyindia
Facebook. Stitch'd by India

Tiktok. @stitchdbyindia
Fun. Flirty. Fashionable. & Handmade
Knitwear & Patterns